---
AE and ASTANA MOTORS Officially Signed the Equipment Supply Contract
---
On June 29, ASTANA MOTORS (short for Astana) of Kazakhstan and AE signed equipment supply contract at Tianjin headquarters of AE. Maxim, General Manager and Daniyar, Financial Manager of Astana Motors Chinese Car Brand, Jia Xijun, Deputy Party Secretary and General Manager of AE, Chen Yong, Deputy General Manager of AE and Heads of relevant departments attended the signing ceremony.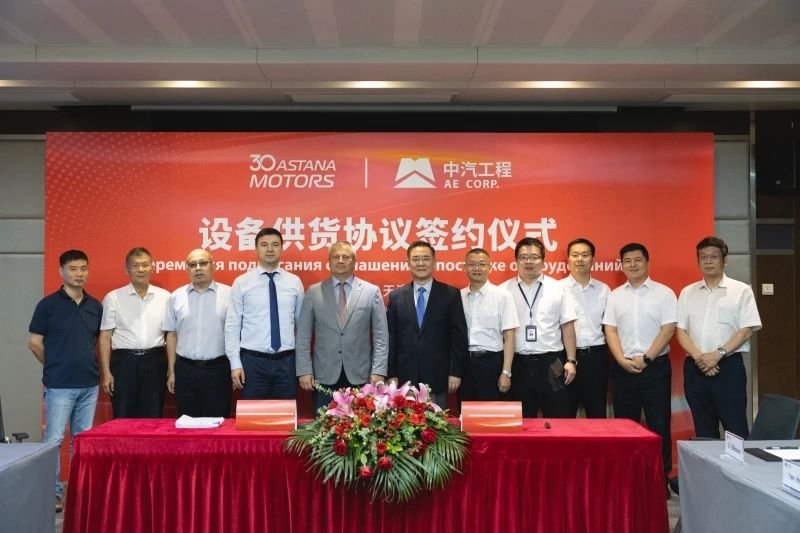 As the first modern automobile manufacturing plant in Kazakhstan, the completion of the project will greatly enhance the level of Kazakhstan's automobile industry.The project has received high attention from President Tokayev, and many local media have reported on the signing of the project, which has greatly enhanced the influence of AE in the local automobile industry and will bring more local automobile industry project opportunities to AE.
The formal signing of the contract is a successful practice of AE's overseas strategy to seize the opportunities of the "One Belt and One Road" and the implementation of the Sinomach's requirements of "forging the advantage of Sinomach, serving the needs of the country".
In line with the principle of "Joint efforts and Shared Development", AE will faithfully perform the agreement and ensure delivery, and build this project into a shining pearl of automotive engineering on the "One Belt and One Road" and contribute to the economic and trade cooperation between China and Kazakhstan.