---
Deputy Secretary of Party Committee & General Manager Jia Xijun Visited Shaanxi Heavy Truck Automobile Capacity Expansion Project Site
---
On May 19, Jia Xijun, Deputy Secretary of Party Committee & General Manager and Deputy General Manager Zhang Jijun, visited Shaanxi Heavy Truck Automobile capacity expansion project site to inspect and investigate the overall progress of the project.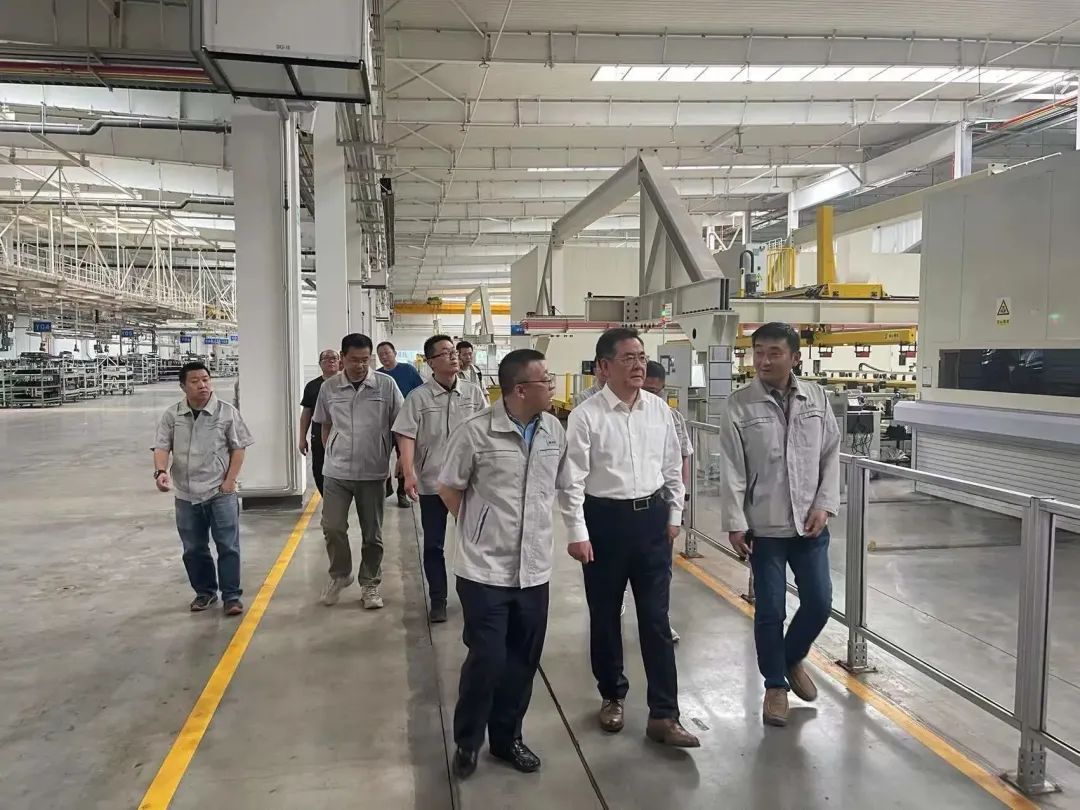 General Manager Jia went to the site of Shaanxi Automobile Capacity Expansion Project and Shaanxi Automobile-Cummins Project, and conducted a detailed investigation of project construction and status of process equipment. While Zhang Jijun introduced the overall execution status of Shaanxi Automobile series projects implemented in recent years, and project leaders of each section reported the project execution and current status, rectification of defect in the pre-acceptance stage and follow-up work arrangements.
AE has participated in a number of Shaanxi Automobile projects. During the construction process of Shaanxi Heavy Truck Automobile capacity expansion project, AE used prefabricated components to improve construction progress and achieved ultra-high assembly rates;The extensive application of AGV and tire automatic assembly technology has achieved a high level of automation in the heavy truck industry, and the construction of the largest longitudinal beam vertical warehouse in Asia has been completed. Multiple technologies have been successfully applied in the heavy truck industry. The project has achieved complete vehicle off-line in April 2022 and has now reached the production capacity as designed.
Jia Xijun interacted and communicated with the project team members to understand the implementation of the project, current challenges and difficulties, and provided guidance. Jia pointed out that AE and Shaanxi Automobile have experienced nearly 30 years of cooperation, witnessing the high-quality development of both sides, and the relationship between the two sides has moved from a simple business partner to a new level of strategic partnership. The expansion project is currently in a critical period of advancing from pre-acceptance stage problem rectification to final acceptance.We should abide by the spirit of the contract and strengthen service awareness, actively promote problem rectification, and complete the project closure work with high quality. As the current focus of the project's research and development workshop, the construction and installation team and the research and development process team should closely cooperate, carefully organize and plan, strengthen on-site management, and communicate and coordinate with all relevant parties, striving to achieve delivery goals as soon as possible.
During the investigation, Jia Xijun also paid a visit to the principal manager of Shaanxi Automobile Capacity Expansion Base. He thanked Shaanxi Automobile for their long-term trust and support to AE, and conducted in-depth exchanges on the concerns and follow-up cooperation of both parties regarding the expansion project, and further gathered consensus on the follow-up work of the project and future cooperation.